Sculptra: A Safe and Effective Way to Rejuvenate Your Skin
April 5, 2023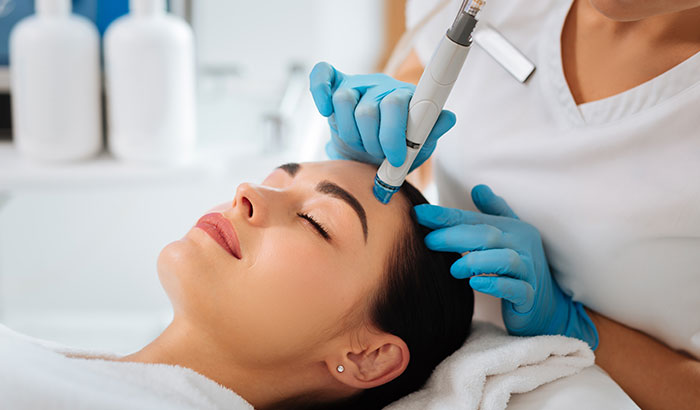 Unveiling the Magic of Hydrafacials: The Ultimate Skincare Experience
June 14, 2023
Introduction:
Significant weight loss can bring numerous health benefits, but it often comes with the unintended consequence of facial volume loss. Fortunately, there are solutions available to restore volume and regain a more youthful appearance. One such option is Semaglutide, a medication primarily used for type 2 diabetes treatment and weight management. In this blog, we'll explore how Semaglutide can aid in facial restoration after significant weight loss and discuss additional strategies for achieving your desired results.
Understanding Facial Volume Loss:
When you lose a substantial amount of weight, particularly in the face, fat deposits that once provided a plump and youthful appearance diminish. This can lead to hollowed-out cheeks, sunken eyes, and an overall deflated look. Restoring facial volume is essential to achieve a balanced and rejuvenated appearance.
Semaglutide's Potential Role in Facial Restoration:
Semaglutide is a glucagon-like peptide-1 (GLP-1) receptor agonist commonly prescribed for type 2 diabetes and weight management. Although its primary function is not facial volume restoration, some individuals have reported improvements in facial fullness while using Semaglutide. It is believed that the medication's effects on metabolism and
fat distribution may contribute to this benefit.
Consulting a Healthcare Professional:
Before considering any aesthetic interventions, it is crucial to consult with a healthcare professional who can assess your specific needs and guide you through the process. Your healthcare provider will evaluate your medical history, review your weight loss journey, and determine whether Semaglutide or other treatments are suitable for your
goals.
Complementary Strategies for Facial Restoration:
While Semaglutide may help to some extent, additional strategies can maximize the results of facial restoration after significant weight loss. Here are some recommended approaches:
Restoring Facial Volume After Weight Loss: Unlocking a Youthful and Balanced
Appearance
Introduction:
Losing weight is a significant accomplishment that can greatly improve your health and well-being. However, weight loss can also result in facial volume loss, leaving you with a sunken or gaunt appearance. Fortunately, there are effective techniques available to restore volume to your face and help you regain a youthful and balanced look. In this
blog, we will explore various methods for restoring facial volume after weight loss, empowering you to enhance your overall facial aesthetics.
Understanding Facial Volume Loss:
When you lose weight, particularly in the face, the fat pads that once provided youthful contours diminish. This can lead to sunken cheeks, hollowed temples, and a less defined jawline. Restoring facial volume is crucial for achieving a balanced and harmonious appearance.
Dermal Fillers:
Dermal fillers are a popular and non-surgical option for restoring facial volume. These injectable treatments, typically containing hyaluronic acid, can plump up areas that have lost volume and soften wrinkles. Skilled practitioners can strategically administer fillers to enhance specific facial features and restore
natural fullness.
Fat Transfer:
Fat transfer, also known as fat grafting, is a natural approach that involves using your body's own fat to restore volume. In this procedure, fat cells are harvested from one area of your body, usually through liposuction, and then carefully injected into the desired areas of your face. This technique can provide long-lasting results and a more youthful appearance.
Facial Exercises:
Engaging in regular facial exercises can help improve muscle tone and lift sagging areas of the face. These exercises target specific facial muscles, such as the cheeks, jawline, and forehead, and can promote increased blood circulation, toning, and improved facial volume. Incorporate facial exercises into your daily routine for best results.
Skincare Routine:
Maintaining a consistent and comprehensive skincare routine is vital for facial rejuvenation. Focus on hydration by using moisturizers with ingredients like hyaluronic acid. Look for products that promote collagen production, such as those containing retinol or peptides. Protect your skin from sun damage by applying sunscreen daily.
Microneedling and Collagen-Boosting Treatments:
Microneedling is a procedure that involves using tiny needles to create controlled micro-injuries in the skin, stimulating collagen production. This treatment can improve skin texture and promote natural facial volume restoration. Other collagen-boosting treatments, such as radiofrequency or ultrasound, can also stimulate collagen synthesis and enhance overall facial volume.
Consideration of Surgical Options:
In cases where significant facial volume loss requires more extensive correction, surgical options like facelifts or facial implants may be considered. These procedures can provide dramatic and long-lasting results, but they should be carefully discussed with a qualified plastic surgeon to understand the potential risks and benefits.

Conclusion:
Weight loss is an incredible achievement, but it can result in facial volume loss. Fortunately, there are various techniques available to restore facial volume and enhance your overall appearance. From dermal fillers and fat transfer to facial exercises, skincare routines, and collagen-boosting treatments, there are options to suit individual needs and preferences. Consult with experienced professionals to determine the most suitable
approach for your specific concerns and embark on a journey to regain a youthful and balanced facial aesthetic. Remember, restoring facial volume is not only about outer appearance but also about embracing your newfound confidence and inner beauty